Aquaculture Free Spirit: From Tilapia and Catfish Farming in Africa to a Oyster Hatchery in Australia
Bio: Conchita Milburn
Conchita Milburn, a qualified Marine Biologist started off her Aquaculture adventure in Vilanculos, Mozambique, a quaint seaside town, with some of the most beautiful beaches in the World. That was back in 2011 where she managed a Tilapia fingerling aquaculture farm for two years. Her main focus was to produce high-quality fingerlings for sale to emerging aquaculture farmers.
Her next adventure was Graaff Reinet, South Africa. This time, it was to manage a African Catfish farm. It was at this stage that Conchita also began teaching aquaculture.
Thereafter she spent some time as an Aquaculture consultant in South Africa, assisting with various aquaculture projects associated with tilapia and African catfish. She was involved in the infrastructure and upgrade of Recirculating Aquaculture System (RAS), Training of staff, and establishing breeding programs for tilapia and catfish.
Conchita was then appointed to mentor emerging aquaculture farmers by the South African Government This eventually led to being made head of the Gariep Dam Hatchery & Aquaculture Technology Demonstration Centre, in the Orange Free State province in South Africa where she was responsible training, facilities maintenance,support and production of fingerlings for South Africa's emerging aquaculture industry.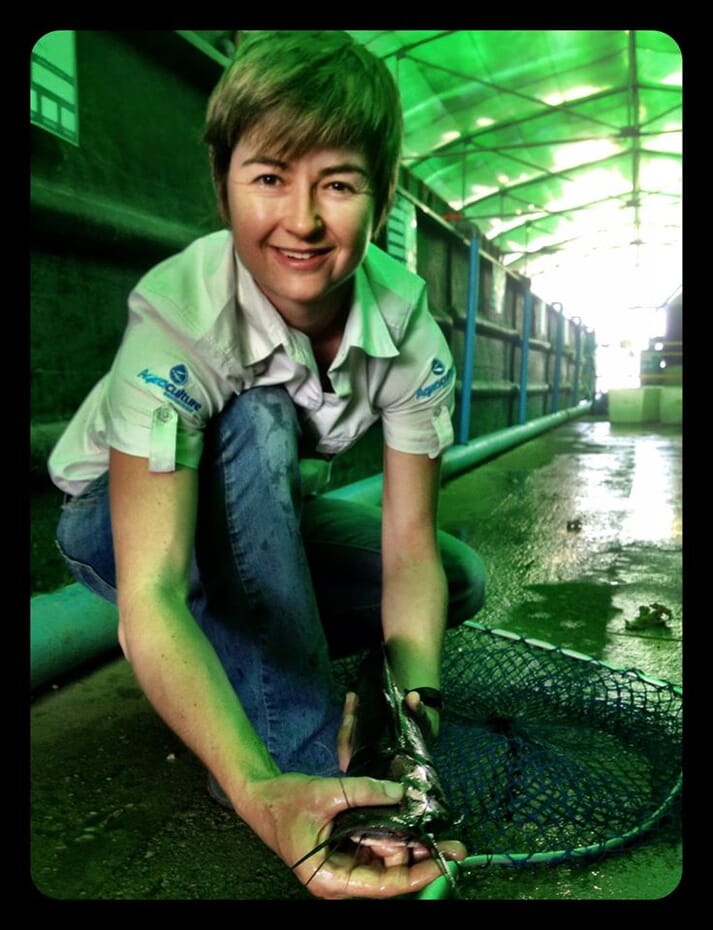 In 2019 Conchita decided to spread her wings and head Down Under and work for an Aquaculture Oyster Hatchery in Australia. Eyre Shellfish
Her message to Aspiring Aquaculture Farmers – Hard Work & Multi-skills
Firstly be prepared to work really hard, aquaculture is not a 9-5 job, if there's an emergency you may just need to work through the night to save the fish or whatever other aqua species.
Learn by being willing to tackle anything that comes your way, that includes getting hands dirty to repair a pump, leaking pipe and anything else that Murphy's Law will throw at you. Aquaculture involves various skill sets, its not just about the fish, but about water quality, filtration, feed (yes including helping to offload heavy bags), Food Conversion Rations, health and safety, security, analysis, computer skills, finances, training, communication skills, to mention a few.
A normal day for Conchita whilst at the Gariep Tilapia and Catfish Hatchery
Observe Fish behaviour and inspect tanks for any fatalities or stress signs
Check water quality. Take water measurements and calibrate Test equipment
Check on plumbing, tanks, pumps for any leaks or irregular operation
Meet with staff to plan and assign tasks for the day or week ahead
Hold specific training when required and mentor students
Work on the financials, planning, budgets, procurement of feed and equipment
Prepare for collections, invoicing and permits.
Update reports tracking, fish growth, stock numbers, fatalities, FCR (food conversion ratio), signs of disease, breeding results, etc
Ensure that broodstock is properly selected and conditioned. Eggs artificially spawned, separated or harvested.
Look at possible system improvements and conduct in-house research on ways to improve efficiencies.
Schedule equipment maintenance and repairs.
Look at feed alternatives that could possibly improve FCR or reduce feed costs and reduced fishmeal content, including own feed production.
Ensure bio-security around the premises to prevent outbreak of diseases
Inspect general security of the premises, including perimeter fences and lighting.
Do market research for sales of fingerlings into the market
Run training programmes for students and emerging farmers
So yes, as with any type of farming, its definitely not for the lazy.
According to Conchita there is nothing more rewarding. Of course, it comes with its challenges from time to time, like when some of the African CafFish had to be culled. African Catfish are extremely hardy. Conchita tried the electrical shock method only to discover that it only stunned them and did not kill them outright. Eventually she came across a humanely way of culling them using clover oil. This can be achieved by mixing 400-600mg of clove oil per litre of water in the fish tank where they are to be euthanized. When exposed to clove oil at this concentration fish quickly lose consciousness, stop breathing and die from hypoxia. Though most fish will succumb withing 5 minutes, it is advisable to let the fish remain in the solution for at least 10 minutes.
Biggest threats to Fish Farming and its Sustainability
Conchita is concerned about the over-reliance of fishmeal for the production of Aquaculture commercial fish feed. She states that more has to be done to use sustainable alternatives (she has explored the option of using soldier fly maggots from companies like AgriProtein). Microalgae such as phytoplankton is also a great alternative, predominantly in non RAS, low stocking density earth green ponds. According to her, the small fish harvested for the production of fishmeal, sustain other bigger fish, seabirds and marine mammals and should not be used to feed farmed fish in order to alleviate increasing pressures on sea life.
Other threats to fish farming is the spread of diseases which has devastating consequences for the industry. The reason for the spread of these diseases is mainly from lack of control of the importation and exportation of farmed fish and broodstock from affected areas. Tilapia Lake Virus for example is now rampant throughout most of East Africa. The use of antibiotics in aquaculture is also a concern.
Pollution is another of Conchita's pet hates, in particular plastic. We should all do our bit to minimise the use of plastic and to properly dispose of it, as well as to help out with cleanups on water ways, beaches and sea. The way it is affecting marine life throughout the World is truly heartbreaking.
Stay tuned, we will soon be hearing more from Conchita from her new home on a Oyster Hatchery in South Australia…
If you liked this article please feel free to register at AquaFarmBuddy for more articles on Aquaculture and Aquaponics